In 1864 Jay Cooke bought the six acre Gibraltar Island located near his birthplace, Sandusky, Ohio. He paid $3,001 for this Lake Erie island and built his summer house on it the following year. Jay was 43 and his wife Dorothea Elizabeth Allen Cooke was 38. They had two sons, aged 20 and 8, and two daughters, aged 16 and 13. They also had had four other children who died. Jay Cooke lived another 40 years. Dorothea died within 6 years. By 1905 when Jay Cooke died, he had 4 children, 15 grandchildren and 12 great grandchildren. His family paid visits at least twice each summer, staying in this 15 room house that was eventually was called the Cooke Mansion. The family referred to it just as Gibraltar. After the 1873 panic Jay Cooke sold Gibraltar but was able to buy it back in 1880 and spend many more happy summers there. The Jay Cooke days of Gibraltar Island are described in the attachment "Gibraltar in Jay Cooke's Time," which gives excerpts from the Journal of Jay Cooke or The Gibraltar Records 1865-1905 by James E. Pollard.

After Jay Cooke's death, his oldest daughter, Laura Cooke Barney, inherited the island and for some many summers she went there with her extended family. In the Gibraltar Records, Volume 5, she wrote, "In the providence of God, I have become the possessor of Gibraltar, and I pray that it may not be less consecrated to a wise and good use, than in former days: for the uncertainty of life and of all earthly things is deeply impressed upon me. It is only character that lasts. 'O teach us to number our days, that we may apply our hearts unto wisdom.' "

According to many of her grandchildren "Granny" was a wonderful person who was very respected and loved by all.
During her time, the lively life continued on Gibraltar. There were morning prayers before breakfast, preparations and receptions for visitors, plays with elder aunts dressed in the Gibraltar curtains sometimes singing dramatic solos, children's escapades to the pantry closet to get left over pieces of the favorite "snipppy-doodle cake," and fishing trips and excursions to local islands on the boat The Velma. Jay Cooke's great grandchildren were dressed in sailor suits on the The Velma and some of the older ones were crew members. One younger one remembered wearing a cork life preserver. The Velma also had hand embroidered linen towels marked "Velma".

In 1925 Laura sold Gibraltar Island with the house to Julius Stone, who donated it to Ohio State University. Cooke Castle has been declared a Federal Historical Site and it is being renovated.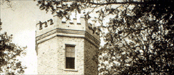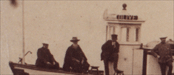 More resources:
Gibraltar in Jay Cooke's Time
(68K PDF)

Get a sense of what life was like at Gibraltar in Cooke's own words. (Excerpts from The Journal of Jay Cooke or The Gibraltar Records, 1865-1900 by James E. Pollard)
Ohio State's Cooke Castle Website
(External site)

Learn more about Gibraltar and Cooke's Castle at this informative website.