Introduction
The Jay Cooke family can trace its roots back over 150 years to Jay Cooke (1821-1905), the patriarch who married Dorothea Elizabeth Allen (1827-1871) in 1844. They had eight children (four of whom died early), sixteen grandchildren and forty-three great grandchildren who descended from them...and the lineage continues to this day.
To use the family tree, simply click on the name of a person of interest to visit that branch of the family tree. For instance, clicking on Sarah Esther Cooke will take you down her family's branch of the Cooke family:
Married to John Morris Butler (1871) and had six children:
Elizabeth Cooke Butler, who married Eugene Haskins Rosenquest (five children)
John Morris Butler, Jr., who married Isabel Perry Tiffany (three children)
Henry Emerson Butler, who married Alice Eleanor Mason (five children)
Allen Butler, who married Katharyn Border (two children)
Clarissa Boalt Butler, who married Wilfred M. Hager (three children)
Laurance Butler, who married Marie Virginie Mar Madeira (five children)
Let's Get Started
Click to begin using the family tree.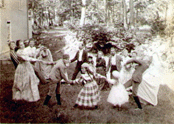 The Merry Go Round, 1891
A large group makes merry behind the boathouse.